Welcome to Mustang's Community Development Department!
Our department is responsible for regulating all zoning and development activity within the incorporated areas. Anyone proposing to develop, construct or relocate in our community should contact this department during the initial planning stage to ensure all preliminary requirements are met and streamline the remainder of the development process. We are also charged with enforcing most city laws governing the maintenance and improvement of private property.
Mustang is one of Oklahoma's most desirable places to live. During 2014, national journalists named it one of the State's Top Ten places to Live and one of the State's Top Ten Places to Own a Home. Over the past two decades it has also been one of Oklahoma's fastest growing smaller cities.
What makes Mustang so attractive? Great public schools, a wonderful quality of life and lots of recreational opportunities are part of what is drawing many families here.
This popularity has resulted in many new neighborhoods throughout the city. Great residential lots can be found in the Hunters Hills, Magnolia Trace, Savannah Lakes and Spitler Lake Estates additions. The Hyde Park and Prairie View Estates subdivisions are nearing completion and others are on the drawing board. We even have limited acreage for sale on the outer edges of the community.
"The mission for the Community Development Department is to effectively manage growth and change in Mustang to maintain a high quality of life and ensure a successful future for our community."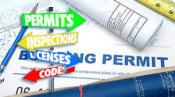 Department Duties Include:
Planning & Zoning
Economic Development
Residential Permits & Inspections
Commercial Permits & Inspections
Building Code Enforcement
Nuisance/Health Code Enforcement
Business & Contractor Licensing
Flood Plain Administration and Storm Water Drainage
Staff
Director: Melissa Helsel, AICP Email Melissa Helsel 405-376-7707
City Planner: Ryan Conner, MRCP Email Ryan Conner 405-376-7702
Office Administer: Radika Moore Email Radika Moore 405-376-9873
Chief Building Inspector: Wayne Blethrow email
Building Inspector: Justin Goodwin email
Code Enforcement: William Speck email